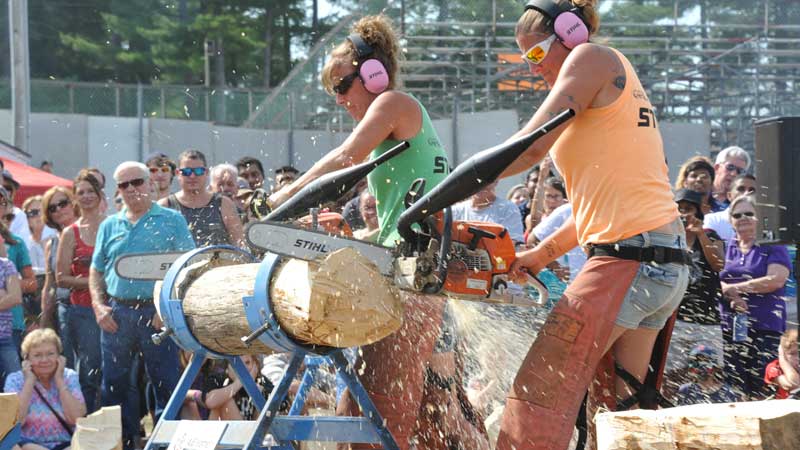 Axe Women Loggers of Maine
Daily – 12pm, 3pm & 5pm
When you want great old-fashioned family fun, the Axe Women Loggers of Maine show is where it's at! The all-female timber sports athletes are world champion choppers, sawyers, logrollers and axe throwers! Individuals in the group hold several world records and titles!
Website: Axe Women
WRESTLING FEDERATION OF AMERICA
Daily – See Schedule
Experience the intensity, excitement and the power of live professional wrestling when the WRESTLING FEDERATION OF AMERICA invades the Hopkinton State Fair! Don't miss live matches all weekend long featuring some of the best up-and-coming wrestling stars in the New England region and across the country!
MAIN EVENT –
WFA HEAVYWEIGHT CHAMPIONSHIP MATCH
Moshpit (c) vs "Kingpin" Brian Milonas
Plus In Action: "The Limb Reaper" Spencer Slade with Adam Barisano, Ichiban, "Beautiful" Brad Baylor, Rex Lawless, DK Vandu, Jarret Diaz, Diego Alvarez , "The It Factor" Scott Reed & many more!
Do you think you have what it takes to become a Professional Wrestler? Join decorated trainer and Head Coach of the Elite Pro Wrestling Academy, Mike Hollow as he leads his class in a very special public in-ring workout and demonstration at the Hopkinton State Fair! Get an up close and personal view of what goes into making a Professional Wrestler from the very beginning, while receiving exclusive insight and trade secrets from the trainer with a stable of WWE's biggest stars under his belt! Staff and students from the Elite Pro Wrestling Academy will be on hand to meet and interact with all camp attendees interested in signing up for a free class in nearby Concord, New Hampshire!
Website: WFAwrestling.com
DockDogs
Daily – See Schedule
High Flying dogs aquatic event – What an exciting event!! Trained and untrained local dogs that love the water compete in Waves leaping out over a pool chasing after their favorite toy. The winner of the Wave is the one that jumped the furthest distance into the pool.
Website: DockDogs
Ben Risney – Wood Sculpture
Daily – 11:00am, 1:00pm & 4:00pm
Watch in amazement as a tree log turns into a life-size horse with a flying mane, an angry bear, a reflective Native American chief, a rustic old boot, or a soaring eagle before your very eyes. Ben Risney is a Master Carver you will not want to miss.