JetPack Flying Water Circus
Daily – See Schedule
Incredible demonstrations and stunts as done in the legendary, pioneering, Tommy Bartlett show. A Jet pack is thrust 40- SO feet in the air. Once high in the air, talented stuntmen perform aerial daredevil turns, flips and breath-taking stunts all inside and above a 4′ deep, portable Olympic size pool.
The Jet Packs are powered by a jet ski with an attached 4″hose, sending them up with an enormous thrust. The show is all accompanied by exciting music and an emcee who explains the mechanics and dangers of the sport and that this is a sport only for professionals.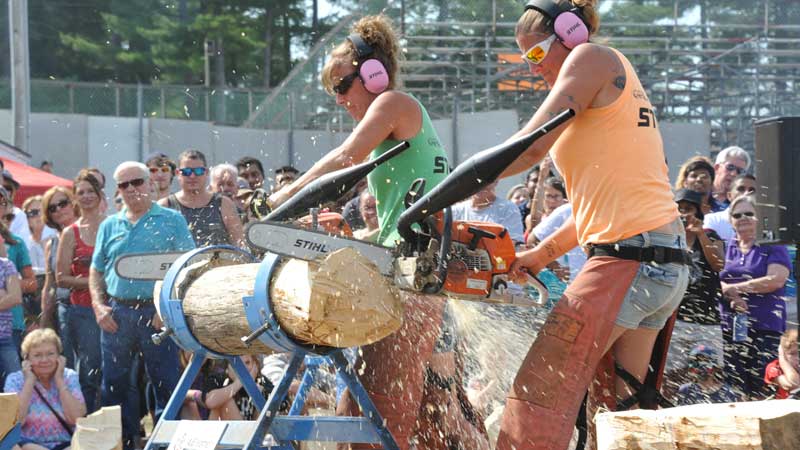 Axe Women Loggers of Maine
Daily – 12pm, 3pm & 5pm
When you want great old-fashioned family fun, the Axe Women Loggers of Maine show is where it's at! The all-female timber sports athletes are world champion choppers, sawyers, logrollers and axe throwers! Individuals in the group hold several world records and titles!
Website: Axe Women
DockDogs
Daily – See Schedule
High Flying dogs aquatic event – What an exciting event!! Trained and untrained local dogs that love the water compete in Waves leaping out over a pool chasing after their favorite toy. The winner of the Wave is the one that jumped the furthest distance into the pool.
Website: DockDogs
Ben Risney – Wood Sculpture
Daily – 11:00am, 1:00pm & 4:00pm
Watch in amazement as a tree log turns into a life-size horse with a flying mane, an angry bear, a reflective Native American chief, a rustic old boot, or a soaring eagle before your very eyes. Ben Risney is a Master Carver you will not want to miss.
Northeast Six Shooters
Monday at 1pm
The fastest, family horse sport around!
Riders shoot balloons from horseback, testing their speed, accuracy & control. Real .45 caliber single-action revolvers use blanks to pop balloons.
Overall winners take home bragging rights (until next time!)
Website: Mounted Shooters