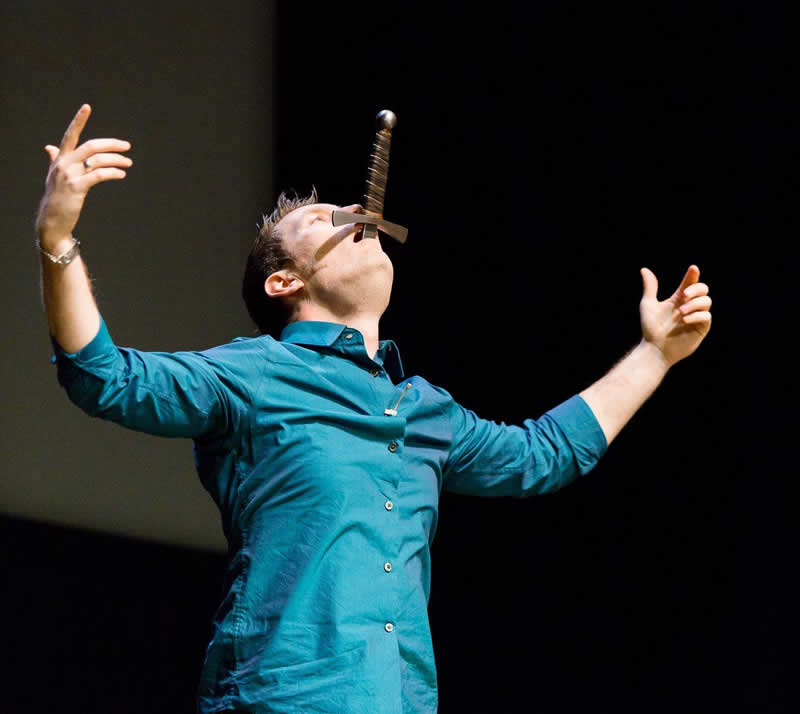 Mentalist and Sword Swallower
Daily – 1pm & 4pm
You don't have to be psychic to read minds. Just fiendishly clever!
What would you say if someone told you that they could hear your innermost thoughts, read what's on your mind, tell you intimate details of your past and what's going to happen in your future?
If you're like most people, you'd say "Prove it!"
Roderick Russell does not claim to be psychic, or possess any supernatural ability. Nevertheless, he will read your mind and reveal your thoughts in such startling detail that you'll swear there's no other explanation!
Through the use of applied psychology, misdirection and a healthy dose of good old fashioned manipulation, Roderick Russell takes the traditional skills of the stage psychic to all new, never-before-seen heights. Though he'll show you precisely how he's doing it through skill and the aid of behavioral science, you'll gasp in awe at the remarkable nature of the human mind and the limitless potential that it possesses. Using cold reading, lie detection, suggestion and persuasion, he'll show you precisely how public your "private" thoughts really are – at least to someone that's paying attention.
Website: Almost Psychic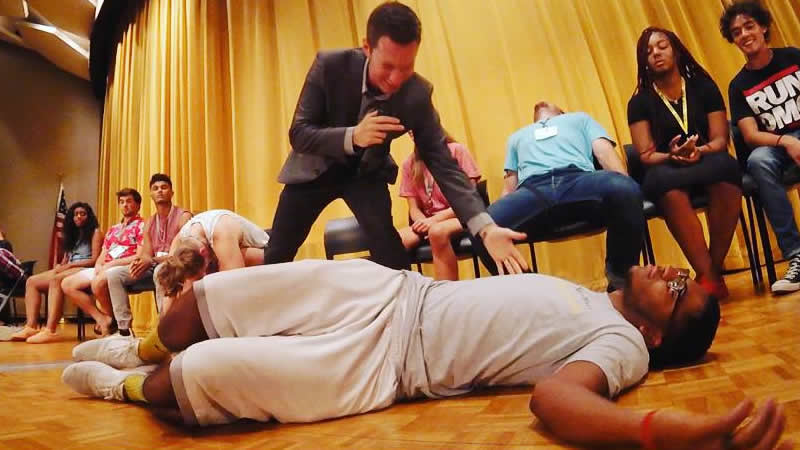 Hypnosis Show
Fri-Sun (3 evenings) – 9pm
You may not remember the show. But your friends will!
Award-winning hypnotist and Ripley's Believe It Or Not star Roderick Russell performs one of the funniest and most mysterious shows on the planet!
In this completely interactive show (only willing volunteers are used) nationally touring artist and clinical hypnotherapist Roderick Russell demonstrates the power of the mind to create our reality – and will induce non-stop laughter in the process.
Website: Hypnosis Show
AudioBody
Electronic Circus Arts!
Fri-Sun (3 evenings) – 8pm
"Act like none other…they tend not to let little things like reality slow them down!" – Times Record
AudioBody's performance is an electronic journey into an unknown realm of seriously spectacular entertainment!
This thrilling show is an explosive mix of circus arts, relentless comedy, award-winning technology, world-class juggling, spectacular lighting effects, and live upbeat music!
Blue Ribbon Staff Pick Award – Maker Faire Austin, TX
Blue Ribbon Editor's Choice Award – Maker Faire San Diego, CA
AudioBody's multifaceted training and over 25 years of experience in the performing arts have brought them to corporate events, schools, theaters and science festivals all over the US and abroad. Some highlights include Disney Cruise Ships, the Atlantis Resort in the Bahamas, the Golden Phoenix Casino, and even The White House in Washington DC three times!
Website: AudioBody
Off the Wall:
Dangerously Weird Comedy and Juggling!
Daily – 2pm & 5pm
World-renowned jugglers and comedians, Jason Tardy and Steve Corning have performed all across the US and beyond. Now they are combining their talents to create Off The Wall, a brand new variety show of ultimate proportions. Featuring fast paced juggling routines, off-the-cuff comedy, escape wizardry, dangerous props, and insane stunts, this show is non-stop entertainment for the entire family!
Website: Off the Wall: Comedy and Juggling!
Learn to Juggle like a PRO!
Daily – 3pm & 6pm
World class jugglers Jason Tardy & Steve Corning, have performed and taught juggling to thousands of people across the country and abroad. They will teach step-by-step how to get started on this fun and entertaining hobby that has brought them all over the world.
Anyone can learn how to juggle no matter how young or old. Even if you already know how to juggle, they can teach you a few new tricks. Everything is provided, so show up and learn how to juggle like a pro!
Website: Learn to Juggle like a PRO!